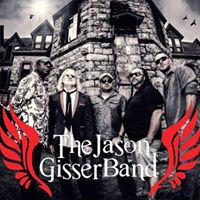 Music is powerful, everyone knows that. It can make you feel more than you thought capable, it can take you to faraway lands or to distant memories. It can put you in the shoes of a stranger, and it can make you understand parts of yourself you never really considered before. When musicians put their everything into the music we listen to each day, it's common that their impact makes you feel something as well. That's how it goes. Music is a language that can be used in so many ways, and the purest (in my opinion), is to bring out these intense feelings, important memories, and whatever else one is carrying within.
Soulful rock band The Jason Gisser Band is out with a new single called "The River." The band is known for playing from their hearts and though that, they have a dedicated fanbase that love their live shows for the strong emotions their music elicits. The band is made up of Jason Gisser (vocals and acoustic guitar), Tom Forst (lead guitar), Andrew Fennell (bass), and Big Thurrsty (drums). They're passionate about what they do and it shows clearly through their music.
This song gives me strong emotions as well, and an even stronger sense of nostalgia. Being from the south, I've been to my share of small churches and back woods revivals. This reminded me of them all so strongly that I could almost see my great grandmother's church, and this is just from the beginning of the song. It feels like my childhood and the life-changing experiences I had. I see old friends, relatives that passed a long time ago, some even before my birth, and the times I've had. I can understand why their fans feel the way they do about The Jason Gisser Band's music.
Gisser's voice is just as soulful as you'd expect for a band like this. You can hear how genuine he is in his voice, and it's a great sound. The guitar and bass provide a smooth sound that you can sway to. I don't know if people dance at their shows, but this is one I'd definitely consider slow dancing to with someone I cared about. The drums make up the backbone of this wonderful song, and given the softness of it, I think the steady rhythm they provide is really a star of "The River," especially after a few listens.
I would recommend this song to just about anybody, especially those with an appreciation for soul. The Jason Gisser Band has a great sound overall, and I love the slower, gentle sound that "The River" has. Their other music is heavier on the soul, with more varied melodies- all of which I love, but this has a special place in my heart on account of the feelings it evokes. I'll be keeping an eye out for this band in the future- if more of this music can do this to me, I'll be happy to hear more of their stuff.
10/10
https://www.thejasongisserband.com/
Victoria Patterson

----------------------------------------------------------------------------------------------------------------------------------------------------------------------------------------------------------------------
The Jason Gisser Band – The River EP
Each man being his own respective musical veteran, things came together rather quickly for the soulful rock collective from upstate New York, know as, The Jason Gisser Band.
Consisting of Jason Gisser (lead vocals, acoustic guitar), Tom "The Suit" Forst (lead guitar), Big Thurrsty (drums), and Andrew Fennell (bass), their immediate chemistry has lead to many on-stage opportunities opening for such legendary acts as:  Grand Funk Railroad, Three Dog Night, Hoobastank, and others.
In fact, the group recorded its first album, In The Garden of Crows, having played only a few gigs together. In anticipation of their full-length follow-up album, Monster, the boys have released a short teaser EP to satisfy the sonic appetites of their enthusiastic fans. The 2-track, The River, is a soulful premonition of great things to come.
---
"I am literally a fan when I'm standing on stage watching these guys play."
—Jason Gisser
---
Here's what we dug most…
Our Favorite Track:
From its very first chords, The River, delivers a bluesy, soulful, inspired ballad in dedication to Gisser's recently passed mother. Reminiscent of the likes of JJ Grey, Jason takes the unique, heartfelt perspective of his father's sudden loss after nearly 50 years of marriage…
"…and I will lay you down by The River
And listen to the carnival shore
Dream of the moment I met you
Tomorrow, we both have to go
And I will lay you down by The River
And let it all flow…"
The nightmare inspired, Monster, sees Gisser excavating the darkest corners of his creative center. Distorted vocals, fuzzed guitars, and grimy percussion help Jason detox that darkness in this funked-up number…
"If there's a way, can you find me?
If there's a way, can you find me?
Before I  burn this world down
Can you find me?"
Well, this just isn't very complicated. The Jason Gisser Band's 2-track, The River EP, is the kind of musical substance which I personally find myself pining for amidst the cookie-cutter musical sea of empty sonic promises where I so often find myself treading water. Both tracks have depth and heart, and an authentic quality which appeals in a universal way. We're looking forward to the rest of the album.
Whose lovechild…?
Mofro meets Lynyrd Skynyrd…
BELOW, you can listen to The Jason Gisser Band's, The River EP, and connect with their website and social media platforms. Please support The Jason Gisser Band by visiting them online, and playing, downloading, and/or purchasing their music. And, as always, thank you for supporting real music!


-----------------------------------------------------------------------------------------------------------------------------------------------------------------------------------------------------------------------


 
The Jason Gisser Band
The River
The Jason Gisser Band have a sublime sound. Their music is incomparably soulful and authentic, loaded with heartfelt reflections on life and love, and layered from top to bottom with genuine emotion. The leading voice has it all, and it carries the sentiment of these songs with sheer strength and beauty.
The musicality of the band's sound presents a smooth and mellow, country-rock ambiance; easy going when relevant, a little heavier and more intense or passionate when necessary. The progression of chords is the first thing to indicate the complex and captivating nature of the songwriting; the first few bars of music for the title track of this release speak volumes for what will follow. However, even with such a striking and skillful beginning – you can never quite prepare for the utter soul that comes through afterwards.
The River is a stunning song, crafted with intricate imagery and thoughtful melodies, performed with absolute skill and secure intent. The influence of country-rock or even rock and roll ballads from yesteryear is hinted at throughout, though there's a distinct feeling of now to the sound, and this is something that makes it all the more addictive.
Monster is something completely different in many ways from its counterpart on this release. The track opens up in a stylish and minimal, seductive, sultry, attention grabbing manner, showcasing the brilliance of the leading voice once again and laying it almost completely bare on occasion. There's an indie rock sense of mystery to this piece, the lyrics intrigue and the musical ambiance greatly enhances this. The whole thing is incredibly fresh, the lyrics hold appeal yet offer only a snippet of the depth and back-story as to how the song came about. This air of intrigue and possibility is hugely attractive, and the hook presents something completely unexpected, and surrounded by space – really just multiplying its impact.
The songwriter's creatively free and deeply passionate approach to writing and performing is something that many genuine music fans crave. On top of this, his awareness of how to reach out and connect whilst simultaneously maintaining that distance and that freshness, is simply mesmerising. The energy of the piece is fantastic, and it makes for the sort of song you can turn up loud and simply play on repeat, again and again – until it feels as if it's been the missing part of you for far too long.
Jason Gisser sings for the souls of all of us. The passion comes through at full speed and completely dissolves any prior concerns or worries you may have had. An incredible band.
Find & follow The Jason Gisser Band on Facebook, Twitter & Instagram. Visit their Website for more music & info.